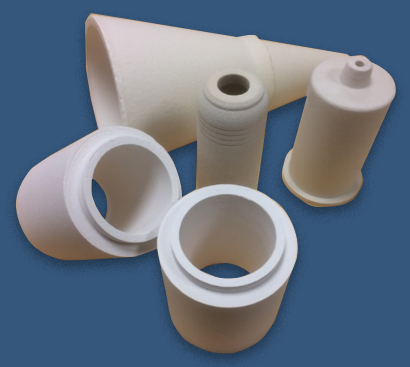 Magma Fibre Shapes manufacture insulating pouring aids for all types of superalloy casting. A full range of sizes and types is available.
Hot tops for casting bar from 50mm to 400mm diameter. One-shot fibre crucibles for turbo-wheels, aero components and surgical implants.
Cover Trays are a convenient, re-usable method for heat retention. Magma Fibre Shapes cover trays are dimensionally accurate and treated for low inclusions.
Products for superalloy casting are available in bio-soluble fibres. Product properties can be enhanced with a comprehensive range of post- and in-process treatments.
Low inclusion

High strength

Efficient insulation

Bio-soluble fibre

RCF and PCF alternatives

Dependable performance

Low thermal mass

Technical innovation

Physical properties can be augmented

Use of refractory opacifiers to create thin wall products with enhanced insulation

Reduces piping when used in hot top inserts

Reduces energy consumption

Surface and body strength can be modified